Sample Standard Deviation Calculation
In this section, I will tell you the process to find the sample standard deviation.
Firstly, let's have a look at the sample standard deviation formula: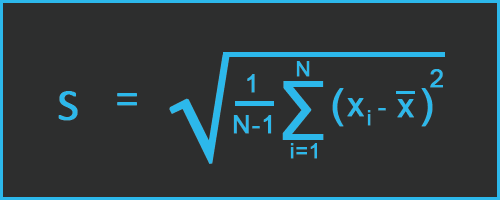 You can see, there is just a small change in this formula as compared to the population formula. That is "N-1" with replacing of "N".
So, when we are calculating the sample standard deviation, then step 1, step 2, and step 3 will be common. I mean it's same as the population calculation steps.
Only the change will be in step 4 and step 5.
Follow the steps below to find the sample standard deviation.
So, we will skip step 1, 2, and 3 and directly calculate step 4 and 5. That is find out the sample variance using squared values and then square root the variance value.
We already have found the squared values from step 3.
Those are: 16, 9, 289, 100, 64
In population standard deviation, we are dividing the above values with 5. Because the number of values is 5.
But in sample standard deviation, we need to divide the squared total with (N-1) = (5-1) = 4.
After division, we will get the standard variance.
And then we need to calculate the square root of the variance to get the final result.
You can see the step 4 and 5 calculation for sample standard deviation here: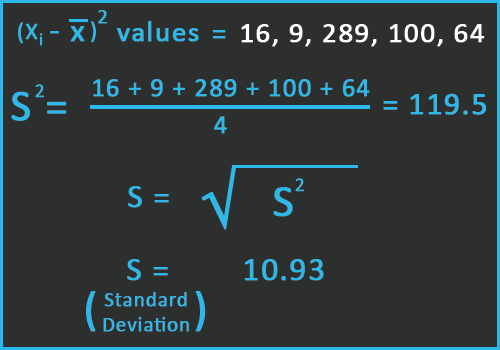 DONE!
I hope you will get all the things clear now. Also, you can easily do the manual calculation by following these five steps. But the manual calculation is only for our understanding. No need to do this all the time. Because it takes so much time to do it. So, use our standard deviation calculator and save your time and effort. Also, it will make your calculation easier and faster.